EDIT MAIN
MISSION STATEMENT
To provide opportunities for young Warriors to be a part of a productive and learning environment within our community. Our focus will be to encourage participation, academic/athletic achievement, discipline, teamwork, friendship and fun. Warren Youth League plans to be an important part of your child's life long development and we cannot wait to work with you and your family!
Indy premier Warren Township Fall Youth League soccer Information
My name is Courtney Burchett and I am the head girls soccer coach at Warren Central. Our assistant coaches, Whitley Wynns, Ethan Maurer, former coach Gary Roberts, and I have been working hard to re-establish a solidified youth soccer program based on the Eastside.
We have thankfully formed a partnership with the top club soccer organization in the state, Indy Premier. The partnership between Warren Youth Soccer and Indy Premier will help us to have a feeder system and constant talent pipeline into our respective high school programs.
The league is for girls and boys and will take place at the old ESSA fields (937 S German Church Road).
Click on the link below for fall youth league soccer prices, contacts, and league information.
Click on the link below for an updated U8 age group game schedule.
The biggest change is for the 9v9 11 plus year olds. We will have a friendly September 22nd or the 29th against an Indy Premier team from a different site location.
For uniform payments you should have gotten a link from Indy Premier. If the name and information is incorrect, you can click on the link and put in the appropriate information. We are also working on an online way for you to make a payment for the insurance fee.
We will send out an email later this week regarding payment information as well.
2019 Eastside 3v3 Fall BOys Basketball Academy
Boys Basketball opportunity for all Warren Township Youth! High level skill development and 3 v 3 game play led by Warren Central Varsity staff. Click on the link below for more information. Contact Coach Winegar to sign up!!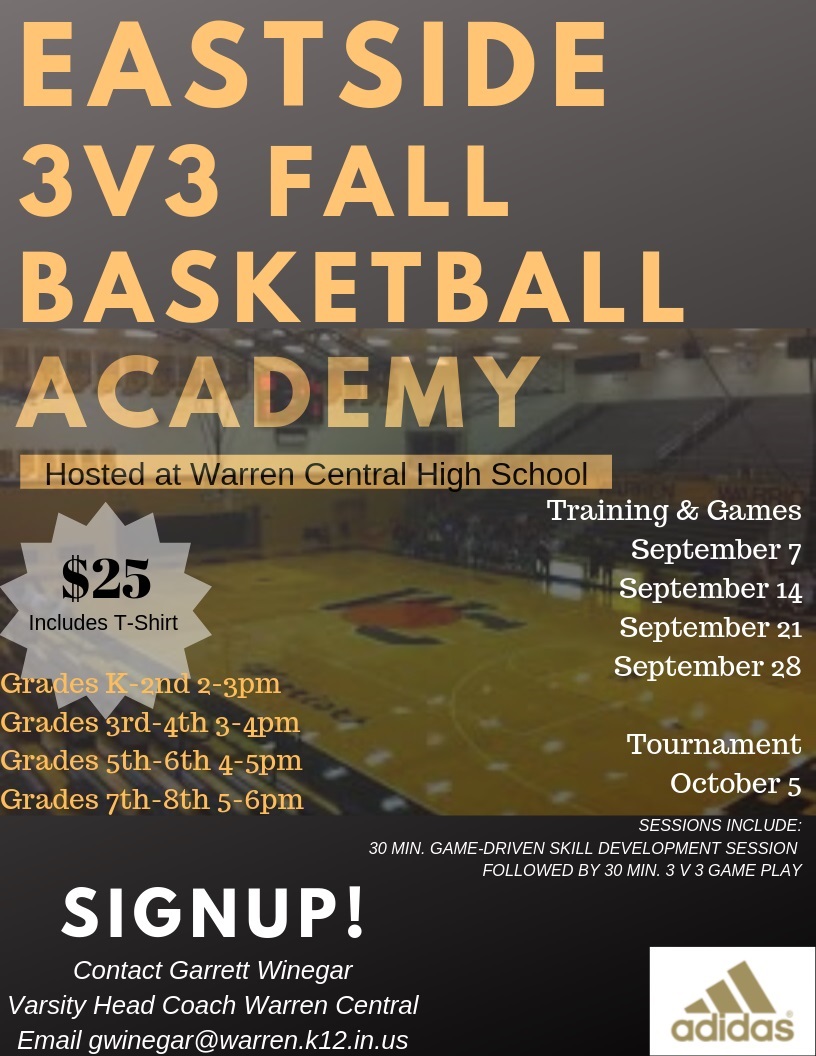 2020 WARREN CENTRAL SUMMER (AND BEYOND) YOUTH CAMPS
Looking for athletic activities for your Warren Township Youth? for more information on camps, contact information, dates, times, and fees! Many of these camps are FREE!!
CHECK BACK IN EARLY APRIL 2020 for more information on camps, contact information, dates, times, and fees! Many of these camps are FREE!!
---