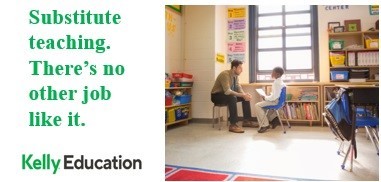 Thank you for your interest in substitute teaching for MSD Warren Township. Substitute teachers are an integral part of the student learning process. Responsible, dedicated, compassionate individuals who share a passion for teaching and learning are encouraged to substitute teach in the District. The current pay for substitute teacher positions is $90 per day, and the current pay for substitute instructional assistant positions is $12.86 per hour.
Metropolitan School District of Warren Township is pleased to partner with Kelly Education as our comprehensive provider of substitute employee recruiting, screening, orientation, scheduling, and employee management.
To apply for substitute teaching or substitute support staff positions at Metropolitan School District of Warren Township, please contact the local Kelly Educational Staffing branch office at (317) 917-0159 option 1 or KellyEdIndyTalent@kellyservices.com. Click the following link to schedule an interview with Kelly Education https://calendly.com/kellyscheduling.