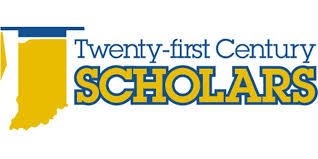 TWENTY-FIRST CENTURY SCHOLARS
Indiana's 21st Century Scholar Program - What is it? How do I apply?
The Indiana 21st Century Scholarship Program is an early commitment college promise program funded by the Indiana Commission for Higher Education (CHE), offering income-eligible Hoosier students up to four years of paid tuition at an eligible Indiana two-year and/or four-year higher education institution. Students must apply during their 7th or 8th grade years and meet the income and academic requirements for the program. If you have questions see information below and feel free to contact your student's school counselor.
To find out more - here is a short informational video : What is the 21st Century Scholar Program?
To read more about the income and eligibility requirements and START THE ENROLLMENT APPLICATION CLICK HERE